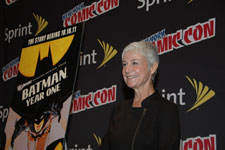 Here's an amazing interview with one of the greatest voice directors in America, Andrea Romano. Andrea's resume is littered with some of the most popular cartoon series of all time including the original Batman, The Animated Series from the mid 90's, Animaniacs, Pinky and the Brain, Teen Titans and Avatar: The Last Airbender.
Andrea talks about some very important ideas to remember when approaching voice acting:
Her first question is always, "Is this person I'm thinking of casting a good actor?"
Her second question is, "Do they have voice over experience?"
Notice the order of those questions. Acting always comes first for Andrea, not experience on the microphone. To quote her directly:
Microphone technique and animation acting, you can teach in a very short time. I can't teach acting in a four-hour recording session. Acting is something that they've got to bring to the table themselves.
That is why I stress so much that you must be a capable actor before you can be truly successful as a voice actor. No matter how much time you spend in the booth, recording on a microphone or polishing your voice, if you do not have the acting ability to support all of your wonderful technique, you won't be able to bring a good performance to the project.
So do whatever you can to get more acting experience. Take acting classes. Join your local or school theater group. Get online and join a voice acting group. Whatever it takes to give you more opportunities to practice playing pretend as characters.
Enjoy!