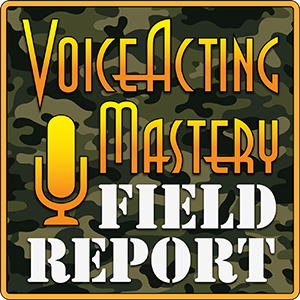 VAMFR 027 | Interview with Erica Mendez, Part 1
Welcome to episode 27 of the Voice Acting Mastery: Field Report podcast!
You can listen to the podcast using the player above, or download the mp3 using the link at the bottom of this blog post. The podcast is also available via the iTunes Store online. Just follow this link to view the podcast in iTunes:
http://www.vamfieldreport.com/podcast
This episode is the first part of Tom Bauer's interview with his good friend and rising talent in the voice over industry, Erica Mendez.
Erica has made amazing strides in the last few years of her career, namely in the realms of video game and anime voice over. She is probably most famous for her voice acting work as Gon Freecs in the 2011 anime series adaptation of Hunter X Hunter. She's also voiced characters like Sailor Uranus in the Viz Media English dub of Sailor Moon and Ryuko Matoi in the popular Kill la Kill anime television series. Most recently, Erica has also started work as an ADR script writer for the Netflix original anime series, Fate/Apocrypha.
Tom first met Erica in a voice over class studying under Richard Horvitz back in March of 2013. It's been a great honor for him getting to know her as a friend and performing alongside her as an actor in a number of anime titles.
In this first episode, we focus on how Erica made the courageous decision to move from her hometown of Chicago to Los Angeles to pursue her creative endeavors. We discuss how her love of cartoons and video games initially inspired her to become a professional animator. While she assumed she would be trying to find work as an animator once she moved to LA, her previous experience performing in online audio dramas meant that she was also open to pursuing voice acting. Once she arrived in Los Angeles, a number of fortunate circumstances lined up to give her the opportunity to audition for voice acting jobs!
The VAM Field Report will be released on the 1st Wednesday of every month so stay on the look out for it!
Download VAM Field Report Episode #27 Here (MP3)