VAM 019 | Interview with J.B. Blanc, Accent Coach, Part 1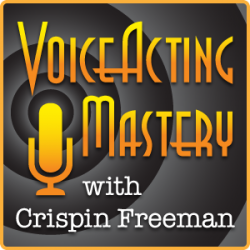 Welcome to episode 19 of the Voice Acting Mastery podcast with yours truly, Crispin Freeman!
As always, you can listen to the podcast using the player above, or download the mp3 using the link at the bottom of this blog post. The podcast is also available via the iTunes Store online. Just follow this link to view the podcast in iTunes:
http://www.voiceactingmastery.com/podcast
Many of you have asked me about the subject of accents or dialects. I usually get similar questions from my listeners:
How do I learn an accent?
How can I remove or lessen my own accent?
How can I overcome a speech impediment?
I thought the best way to address these questions was to interview a wonderful friend of mine and fellow voice actor: J.B. Blanc.
J.B. and I first met working on the anime show Hellsing. Since then, both of us have gone on to work on many important and influential anime, video games and American animated series. J.B. is not only a fantastic actor, but he has an amazing facility with accents. I think you'll really enjoy what he has to say!
You can find out more about J.B. at his website:
Thanks for listening!
Download Voice Acting Mastery Episode #19 Here (MP3)