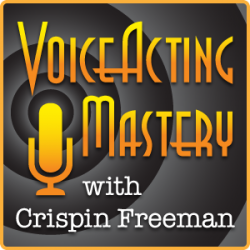 VAM 046 | Interview with Steve Blum, Part 1
Welcome to episode 46 of the Voice Acting Mastery podcast with yours truly, Crispin Freeman!
As always, you can listen to the podcast using the player above, or download the mp3 using the link at the bottom of this blog post. The podcast is also available via the iTunes Store online. Just follow this link to view the podcast in iTunes:
http://www.voiceactingmastery.com/podcast
This week I'm excited to share with you an interview I did with a voice actor who has been an inspiration to me and who I'm fortunate enough to call a friend, Mr. Steve Blum. Steve has worked extensively in Animation, Video Games and Anime, playing major characters in all three art forms. Whether he's playing Wolverine in the Marvel Animated versions, voicing Spike Spiegel in the popular anime series Cowboy Bebop, or setting a Guinness Book world record playing more characters in video games than anyone on the planet, Steve is everywhere. I was eager to talk to Steve about his career and to get his advice on voice acting, because the story of how he broke in to the industry is so unique. I think you'll really enjoy it!
If you'd like to learn more about Steve, please visit his website: www.SteveBlumVoices.com
Thanks for listening!
Download Voice Acting Mastery Episode #46 Here (MP3)