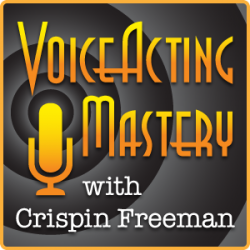 VAM 118 | Interview with America Young, Part 2
Welcome to episode 118 of the Voice Acting Mastery podcast with yours truly, Crispin Freeman!
As always, you can listen to the podcast using the player above, or download the mp3 using the link at the bottom of this blog post. The podcast is also available via the iTunes Store online. Just follow this link to view the podcast in iTunes:
http://www.voiceactingmastery.com/podcast
Welcome to the second part of my interview with the multi-talented America Young! America has had experience in almost every aspect of performing! She's worked on-camera, as a voice actor, as a stunt performer and most importantly for our conversation, as a motion capture actress in video games! I was eager to talk to America so she could share her insight with us about what it takes to succeed in the developing world of motion capture.
We begin our discussion in this episode by defining what motion capture is and how it differs from performance capture. We then explore how America's background in acting and stunt work helped her when she had the opportunity to audition to be a motion capture actress for a Spiderman game. After that, we go into detail about some of the most common practices in motion capture and what you can expect when when find yourself on a motion capture stage.
America has a wealth of information to share so listen closely! You'll learn how important it is to have a solid background in acting before attempting to perform as a physical character in video games!
Download Voice Acting Mastery Episode #118 Here (MP3)