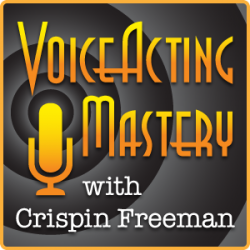 VAM 086 | Interview with Scott Menville, Part 3
Welcome to episode 85 of the Voice Acting Mastery podcast with yours truly, Crispin Freeman!
As always, you can listen to the podcast using the player above, or download the mp3 using the link at the bottom of this blog post. The podcast is also available via the iTunes Store online. Just follow this link to view the podcast in iTunes:
http://www.voiceactingmastery.com/podcast
This is the third and final part of my interview with the wonderfully talented Scott Menville.
Scott is probably best known for his portrayal of Robin in the animated series Teen Titans and Teen Titans Go!, but Scott has been working both as a voice actor and an on-camera actor since he was 11 years old! Scott brings a wealth of experience to our discussion as well as an amazingly positive mindset, and I'm thrilled to have him on the podcast.
In this episode, Scott and I wrap up our discussion by talking about the times in voice acting when things didn't seem to go our way. However, in the midst of such adversity, Scott and I both learned powerful lessons. Often you learn and grow more from your "so called" failures than your successes. After all, a failure is just an opportunity to learn something new on the way to your future success.
At the end of our interview, Scott was kind enough to share his advice for aspiring voice actors. His insights are useful and encouraging, and I'm sure you'll enjoy them.
In the next episode, I'll continue answering more questions from my listeners. For those of you who don't know, I provide a call-in number where any of you can leave me a voicemail with your own thoughts, thank you's or questions. Then, when it's time for me to do a Q&A episode, I choose the most relevant questions and answer them for you here on the podcast. The call-in number is 323-696-2655. Please remember to state your first name and what city in the world you're calling from before leaving your message. I'll include this call-in number in the blog post associated with this episode on Voice Acting Mastery.com. Thanks again for listening, and I'll see you in the next episode!
Download Voice Acting Mastery Episode #86 Here (MP3)