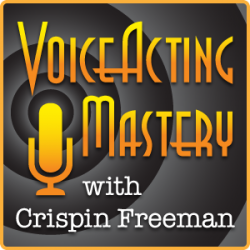 VAM 087 | Q & A Session 16 – Shadowing vs. Internships & A Day in the Life of a Voice Actor
Welcome to episode 87 of the Voice Acting Mastery podcast with yours truly, Crispin Freeman!
As always, you can listen to the podcast using the player above, or download the mp3 using the link at the bottom of this blog post. The podcast is also available via the iTunes Store online. Just follow this link to view the podcast in iTunes:
http://www.voiceactingmastery.com/podcast
In this episode, I continue answering questions from my podcast audience! For those who may not be as familiar with the podcast, in past episodes, I've given out a phone number where you can call in and leave me a question about voice acting as a voicemail. From time to time, I'll pick the most relevant questions I receive and answer them here on the podcast.
For this round of Q & A, I answer questions from Justin from San Diego, CA and Tina from Chicago, IL.
Justin wants to know if it's possible to shadow or apprentice under working voice actors in order to learn about the industry.
I understand and applaud the idea of apprenticeship. I think it can be far more educational to work with someone who actually makes a living in your field of interest than to simply study that career from a distance.
However, there are some unique challenges that arise from trying to shadow people who are working as voice actors, especially in the world of animation and video games. I explain those challenges in detail and offer an alternative that might be more productive: internships.

Tina wants to know what a normal schedule for a full-time voice actor would be on a daily basis.
Tina asks a great question. The problem is there is no simple answer. With most traditional professions where you are required to go to an office or some other place of work day after day, it is possible to describe what an average work day might be like. This is not the case with voice acting. Voice actors can have very inconsistent schedules, which makes it difficult to describe a "typical" workday for a voice actor.
While I don't know if I can tell her what a typical voice actor's day might be like, I can share with her how variable my schedule as a voice actor tends to be.
I hope you find the answers useful in your own voice acting endeavors!
If any of my listeners would like to call in with your own thoughts, thank you's or questions, the number is:
323-696-2655.
Please don't forget to include your first name and what city in the world you're calling from. I'm looking forward to hearing from you!
Thanks for listening!
Download Voice Acting Mastery Episode #87 Here (MP3)