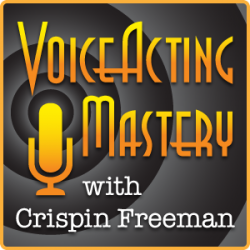 VAM 134 | Interview with Anjali Bhimani, Part 1
Welcome to episode 134 of the Voice Acting Mastery podcast with yours truly, Crispin Freeman!
As always, you can listen to the podcast using the player above, or download the mp3 using the link at the bottom of this blog post. The podcast is also available via the iTunes Store online. Just follow this link to view the podcast in iTunes:
http://www.voiceactingmastery.com/podcast
Welcome to first part of my interview with theater, on-camera and voice actress, Anjali Bhimani! You may know Anjali from her performances in TV shows like Modern Family, where she played Nina Patel, and the recently released series Alex, Inc. where she plays the character Joya. Anjali started working in theater in such famous touring productions as Metamorphoses which began at the Looking Glass Theater in Chicago and eventually went to Broadway in New York City, and Bombay Dreams which also had a Broadway production run. However, for my podcast audience, Anjali is probably most familiar for her voice acting work as Symmetra in the hit game, Overwatch. Anjali is not only a talented actor, singer and dancer, but she also runs a YouTube channel called "I am Fun Size" where she shares her life wisdom and experience. I was fortunate enough to be a guest on her YouTube series and I'm honored to have her with me here on the Voice Acting Mastery podcast!
In this episode, Anjali and I begin our discussion by talking about how she began her study of acting. She was a very industrious and studious young girl and while she had a passion for performing, it wasn't until she was in high school that she realized that acting could be an actual career path. Once she made that discovery, she did her best to learn everything she could about creating and sustaining an acting career. Her early accomplishments are a case study in how successful one can be when intense preparation meets artistic opportunity. Anjali applied herself diligently to her craft so that when acting opportunities arose for her, she was able to capitalize on them effectively. However, even with so much good fortune, she quickly learned that she couldn't rest on her laurels. She realized that no matter how successful she may have been at first, she still had to hustle in order to maintain her acting career.
Anjali has an infectious enthusiasm that I'm sure you'll hear in our interview and I am eager to share her insights with you! So without further ado, here's Anjali!
If you'd like to check out her YouTube series, please visit her
Download Voice Acting Mastery Episode #134 Here (MP3)