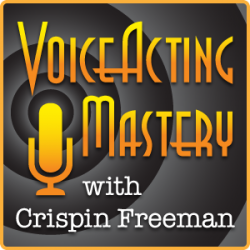 VAM 034 | Interview with Kimlinh Tran and Edward Bosco, Part 2
Welcome to episode 34 of the Voice Acting Mastery podcast with yours truly, Crispin Freeman!
As always, you can listen to the podcast using the player above, or download the mp3 using the link at the bottom of this blog post. The podcast is also available via the iTunes Store online. Just follow this link to view the podcast in iTunes:
http://www.voiceactingmastery.com/podcast
In this episode I continue my interview with Kimlinh Tran and Edward Bosco, two of my former students who have gone on to play main characters in the popular independent video game Dust: An Elysian Tail. You can find it on the Xbox Live Arcade. If you haven't heard the first part of their interview, I suggest you check out the previous episode before you listen to this one.
This time around, we discuss both the casting process for the game as well as some interesting acting lessons Edward and Kimlinh learned while working on it. While they each had very different paths to being hired as voice actors for the project, once they were cast, they both faced the same challenge any voice actor has: how to portray a character believably and authentically and not simply demonstrate a caricature of that character. I think you'll find it very enlightening!
Thanks for listening!
Download Voice Acting Mastery Episode #34 Here (MP3)