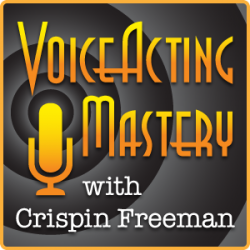 VAM 035 | Interview with Kimlinh Tran and Edward Bosco, Part 3
Welcome to episode 35 of the Voice Acting Mastery podcast with yours truly, Crispin Freeman!
As always, you can listen to the podcast using the player above, or download the mp3 using the link at the bottom of this blog post. The podcast is also available via the iTunes Store online. Just follow this link to view the podcast in iTunes:
http://www.voiceactingmastery.com/podcast
This is the third and final installment of my interview with my former students, Kimlinh Tran and Edward Bosco, about their experiences working on the popular independent game, Dust: An Elysian Tail. You can find it on the Xbox Live Arcade. If you haven't already, I suggest you listen to episodes 33 and 34 before listening to this episode.
I wrap up our discussion by asking them what advice they would give to other voice actors like themselves who are just starting their professional careers. It's wonderful to get a recent, up-to-date take on what it's like out there for aspiring voice actors. They give fantastic tips on what you need to do to truly improve your craft as a performer. Enjoy!
Thanks for listening!
Download Voice Acting Mastery Episode #35 Here (MP3)