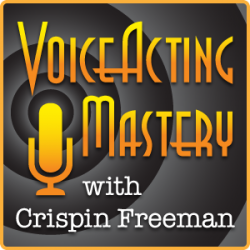 VAM 033 | Interview with Kimlinh Tran and Edward Bosco, Part 1
Welcome to episode 33 of the Voice Acting Mastery podcast with yours truly, Crispin Freeman!
As always, you can listen to the podcast using the player above, or download the mp3 using the link at the bottom of this blog post. The podcast is also available via the iTunes Store online. Just follow this link to view the podcast in iTunes:
http://www.voiceactingmastery.com/podcast
For this episode, I'm honored to interview two of my former students, Kimlinh Tran and Edward Bosco. Even though they are relative newcomers to the voice acting world, you may be familiar with their work in an amazingly popular game that has just been released called Dust: An Elysian Tail. You can find it on the Xbox Live Arcade and it's been getting fantastic reviews. Kimlinh plays the voice of Fidget, the small but spunky companion to the hero of the game, while Edward plays the voice of Ahrah, the spirit of a magical sword who helps guide the hero on a quest to save his world.
You can view a trailer for the game below:
I'm very proud of both Kimlinh and Edward for their wonderful work in this game and I'm happy the project has been such a success! When I decided to interview them, I felt that sharing their experiences as they begin their voice acting careers would be helpful and inspiring for you, my listeners, and I hope you enjoy their story.
Thanks for listening!
Download Voice Acting Mastery Episode #33 Here (MP3)