Posted by
Crispin Freeman
on Mar 6, 2013 in
Accents & Dialects
,
Acting
,
Agents
,
Animation
,
Anime
,
Audiobooks
,
Casting
,
Commercials
,
Mindset
,
Podcast Episodes
,
Video Games
|
17 comments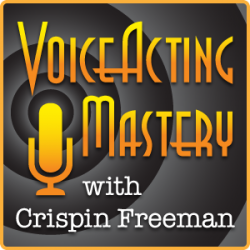 VAM 045 | Dealing with Rejection
Welcome to episode 45 of the Voice Acting Mastery podcast with yours truly, Crispin Freeman!
As always, you can listen to the podcast using the player above, or download the mp3 using the link at the bottom of this blog post. The podcast is also available via the iTunes Store online. Just follow this link to view the podcast in iTunes:
http://www.voiceactingmastery.com/podcast
I recently posted a review on here on Voice Acting Mastery about a book written by my good friend and veteran voice actor, Jack Angel. Some of my listeners may remember Jack from the interview we did together back in episodes 13, 14 and 15 of the podcast, and I encourage those of you who enjoyed that interview to check out my review of Jack's book. Jack has a wonderful outlook, not only on voice acting, but on life in general. In his book, which is appropriately titled "How to Succeed in Voice-Overs Without Ever Losing", Jack shares some great advice on how to approach auditioning for voice over jobs, and how to deal with the feeling of rejection when you don't book the gig. I found Jack's thoughts on this subject so inspiring that I thought I would share with you some of my own insights on the topic of rejection and how to deal with this dreaded, but seemingly inevitable part of pursuing an artistic career.
In this podcast episode I explain how to use Jack's rule that "There ain't no damn rejection" to change your mindset about dealing with this negative emotion. By realizing that rejection doesn't actually exist, you can begin to separate your own self-worth as a person from your abilities as an artist. This will not only help you feel better about yourself, it will help speed up your artistic growth as well. I think you'll find this technique incredibly useful.
If you'd like to read more of Jack's wisdom, you can purchase Jack's book on Amazon. I highly recommend it!
Thanks for listening!
Download Voice Acting Mastery Episode #45 Here (MP3)