VAM 013 | Interview with Jack Angel, Part 1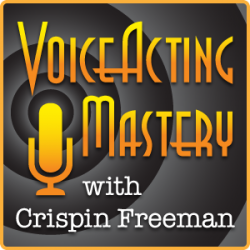 Welcome to episode 13 of the Voice Acting Mastery podcast with yours truly, Crispin Freeman!
As always, you can listen to the podcast using the player above, or download the mp3 using the link at the bottom of this blog post. The podcast is also available via the iTunes Store online. Just follow this link to view the podcast in iTunes:
http://www.voiceactingmastery.com/podcast
The holidays are approaching fast! As an end of the year treat, I thought I'd share with you a very special interview I did with one of the great talents in the world of voice acting, Jack Angel.
Jack started his voice acting career back in the 1970's working on some of the most iconic animated shows of all time. Including
Superfriends where he played Hawkman, Super Samurai and The Flash
Voltron where he played the evil King Zarkon
G.I. Joe where he voiced Wet Suit
The Original Transformers where he played Ramjet, Astrotrain, Smokescreen and Omega Supreme.
While most voice actors developed their skills by going to acting school and working in the theater, Jack has an incredibly unique and unconventional path into the world of voice acting, from cartooning, to joining the army to becoming a DJ. I think you'll find his journey incredibly inspiring and enlightening! I hope you enjoy it!
If you have any questions, please post your question as a comment to this blog post. Chances are, someone else has a similar question. By posting your question here on the blog, I get to communicate with all of you at once.
Thanks for listening!
Download Voice Acting Mastery Episode #13 Here (MP3)