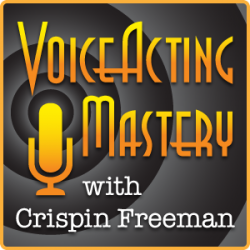 VAM 004 | How I Broke Into Voice Acting, Part 1
Welcome to the fourth episode of the Voice Acting Mastery podcast with yours truly, Crispin Freeman!
As always, you can listen to the podcast using the player above, or download the mp3 using the link at the bottom of this blog post. Also, the show is now available via the iTunes Store online. Just follow this link to view the podcast in iTunes:
http://www.voiceactingmastery.com/podcast
This is the first of a 2 part episode series of episodes where I'll be telling you in great detail how I broke into voice acting. There are 2 big reasons why I wanted to share this with you:
I want you to hear how I approached voice acting so you can learn from my journey
I want to give you a sense of my background so you can more effectively learn from me as teacher.
In the next episode, I'll be diving into how I got started as a voice actor!
Thanks for listening!
Download Voice Acting Mastery Episode #4 Here (MP3)