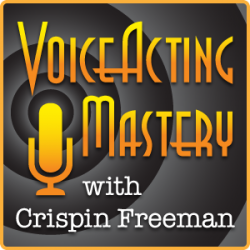 VAM 015 | Interview with Jack Angel, Part 3
Welcome to episode 15 of the Voice Acting Mastery podcast with yours truly, Crispin Freeman!
As always, you can listen to the podcast using the player above, or download the mp3 using the link at the bottom of this blog post. The podcast is also available via the iTunes Store online. Just follow this link to view the podcast in iTunes:
http://www.voiceactingmastery.com/podcast
In this episode, I conclude my very special interview with one of the great talents in the world of voice acting, Jack Angel. What I really love about talking with Jack is hearing his mindset and his philosophy about voice acting. It's wonderfully inspirational and completely unconventional.
Jack also shares with me his advice for aspiring voice actors. I can honestly say that I never get tired of listening to Jack speak. His insights apply not only to voice acting, but to life in general. I think you'll find it incredibly useful to listen to his interview over and over again. You'll hear something new in it every time you do. I certainly do!
If you have any questions, please post your question as a comment to this blog post. Chances are, someone else has a similar question. By posting your question here on the blog, I get to communicate with all of you at once.
Thanks for listening!
Download Voice Acting Mastery Episode #15 Here (MP3)