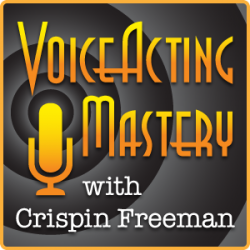 VAM 005 | How I Broke Into Voice Acting, Part 2
Welcome to the fifth episode of the Voice Acting Mastery podcast with yours truly, Crispin Freeman!
As always, you can listen to the podcast using the player above, or download the mp3 using the link at the bottom of this blog post. Also, the podcast is now available via the iTunes Store online. Just follow this link to view the podcast in iTunes:
http://www.voiceactingmastery.com/podcast
This is the second of a two part series of episodes where I finish telling the story of how I broke into voice acting. If you haven't already, I highly recommend that you listen to the episode just prior to this one to give you a sense of context. You can listen to part 1 of my story here:
Voice Acting Mastery, Episode #4
In episode five, I cover many important topics including:
My first time recording in the studio
How I learned to put myself into a performance.
Deciding whether to pursue theater in New York or a career in voice acting in Los Angeles.
My first humbling experiences working in LA.
In the next episode, I'll be interviewing a young and very talented voice actor who is just now breaking into the business! I think you'll find his experiences a useful contrast to my own. As always, I welcome your questions and feedback! If you feel inspired, please leave a comment on this blog post.
Thanks for listening!
Download Voice Acting Mastery Episode #5 Here (MP3)