Posted by
Crispin Freeman
on Apr 1, 2015 in
Acting
,
Agents
,
Animation
,
Anime
,
Casting
,
Commercials
,
Demos
,
Mindset
,
Podcast Episodes
,
Video Games
|
32 comments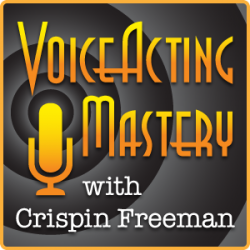 VAM 099 | Q & A Session 19 – What You Should Put on a Voice Acting Resume & How to Find the Best Demo Producer
Welcome to episode 99 of the Voice Acting Mastery podcast with yours truly, Crispin Freeman!
As always, you can listen to the podcast using the player above, or download the mp3 using the link at the bottom of this blog post. The podcast is also available via the iTunes Store online. Just follow this link to view the podcast in iTunes:
http://www.voiceactingmastery.com/podcast
In this episode, I continue answering questions from my podcast audience! For those who may not be as familiar with the podcast, in past episodes, I've given out a phone number where you can call in and leave me a question about voice acting as a voicemail. From time to time, I'll pick the most relevant questions I receive and answer them here on the podcast.
For this round of Q & A, I answer questions from Bryson from Houston, TX and Whitney from Gunnison, CO.
Bryson wants to know what he should put on a voice acting resume. Should it be the same as the one he uses for theater, or should it be formatted differently? He'd also like to know how much information he should put on his business card. I explain to him the differences between theatrical resumes and voice acting resumes and explain how to market yourself effectively to casting directors and producers in the world of voice over.
Whitney wants to know how to find the best producer to help her create her demo. She's done a lot of research on her own, but wants to make sure she's making the right decision. After all, it can take a lot of time, effort and money to make a professionally competitive demo. I first explain to her how to make sure she knows how to identify good demos from bad ones. Then I share some tips with her about how to get the best recommendations for demo producers.
I hope you find the answers to their questions useful in your own voice acting endeavors!
If any of my listeners would like to call in with your own thoughts, thank you's or questions, the number is:
323-696-2655.
Please don't forget to include your first name and what city in the world you're calling from. I'm looking forward to hearing from you!
Thanks for listening!
Download Voice Acting Mastery Episode #99 Here (MP3)