Posted by
Crispin Freeman
on May 14, 2014 in
Acting
,
Animation
,
Anime
,
Appearances
,
Booth Etiquette
,
Casting
,
Commercials
,
Demos
,
Mindset
,
Podcast Episodes
,
Video Games
|
21 comments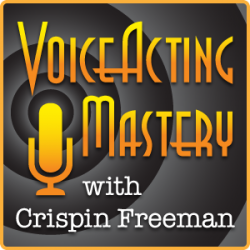 VAM 076 | Building Your Voice Acting Brand, Part 2
Welcome to episode 76 of the Voice Acting Mastery podcast with yours truly, Crispin Freeman!
As always, you can listen to the podcast using the player above, or download the mp3 using the link at the bottom of this blog post. The podcast is also available via the iTunes Store online. Just follow this link to view the podcast in iTunes:
http://www.voiceactingmastery.com/podcast
In episode 75 I explained the importance of creating and maintaining a positive and consistent voice acting brand. I gave specific advice on how to start with your "signature sound" and how to make sure your website, e-mail and other marketing items represent you as a voice acting "product" in a consistent way. Building and maintaining a clear brand makes it easier for casting directors and producers to remember who you are and what you have to offer as a voice actor. As I mentioned in the last episode, your voice acting brand should be based on your full name. This makes it easier for potential employers to reliably contact you for audition and job opportunities. I also touched on the importance of backing up your marketing message with absolute professionalism.
In this episode, I'd like to take the idea of branding yourself even further by introducing you to the concept of "external" vs. "internal" branding. You see, your voice acting brand is not only about your signature sound and your marketing materials. These things do promote you by showing others what you can do as a voice actor, but they are only part of your branding story. Things like your demo, your website and other promotional items contribute to your "external" brand. Your body of work as a voice actor is also part of your external brand, since your list of credits and your finished performances show your unique creative contribution to anyone who sees or hears them. As powerful as this is for promoting yourself as an actor, these external brand items are not actually you. They are "reflections" of you. They are the artifacts or manifestations of your brand in audio and visual formats. These external brand items are your representatives; they communicate who you are as an artist to casting directors and producers when you're not around. But what about when you actually are there, in person, interacting with industry professionals, the press, or the public? How do you apply the idea of branding yourself to your face-to-face encounters? The answer is to develop not only your external brand, but your internal brand as well.
In the podcast, I outline in detail how to develop your internal brand to make sure it supports and does not detract from your external brand. I think you'll find it incredibly useful.
If you're enjoying the podcast, I would really appreciate it if you could give me a positive review in the iTunes Music Store! Here's how:
Follow this link to the Voice Acting Mastery Podcast in iTunes. Your browser should open up to a page listing the podcast.
Click on the View in iTunes button which looks like this:  in order to view the podcast in iTunes. (NOTE: You must have iTunes installed on your computer for this to work)
Once you're inside the iTunes program, click on the stars to rate. They look like this: 
That's it! Thanks for giving me a positive review on iTunes! It helps other voice actors who are looking for this information find me quickly. I'm really excited about being on iTunes and I'm looking forward to reaching even more people this way!
Thanks for listening!
Download Voice Acting Mastery Episode #76 Here (MP3)