Posted by
Crispin Freeman
on Apr 30, 2014 in
Acting
,
Animation
,
Anime
,
Appearances
,
Booth Etiquette
,
Casting
,
Commercials
,
Demos
,
Mindset
,
Podcast Episodes
,
Video Games
|
21 comments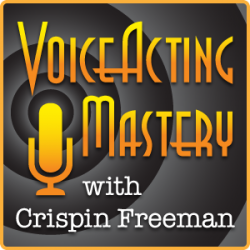 VAM 075 | Building Your Voice Acting Brand, Part 1
Welcome to episode 75 of the Voice Acting Mastery podcast with yours truly, Crispin Freeman!
As always, you can listen to the podcast using the player above, or download the mp3 using the link at the bottom of this blog post. The podcast is also available via the iTunes Store online. Just follow this link to view the podcast in iTunes:
http://www.voiceactingmastery.com/podcast
In episode 74, I discussed at length how important it is to develop a public persona in order to interact more fruitfully with the public and with fandom. I described your public persona as the face you show to the public, to your fans, to the press, to anyone outside of your intimate circle of family or friends. Such a persona is not only useful to help you maintain a gracious and respectful relationship with fandom, but can also serve as emotional armor when you feel the need to protect yourself from public criticism. How you design your public persona depends on your own artistic values, and also on the brand you choose to build as an industry professional.
The concept of branding oneself as a voice actor can be confusing, especially when you're just starting out, so in this episode I'd like to share some tips on how to approach the subject. Having a solid grasp of your own brand can not only help you decide how your public persona will behave, it can also shape your marketing, your overall business strategy, and your personal interactions with fellow industry professionals. Building a strong, positive brand and then staying true to it can help it grow, which strengthens your ability to stand out from the crowd and be remembered by employers, peers, and the public. On the other hand, a weak or inconsistent brand can make you less memorable or even undesirable as an actor.
In the podcast, I explore in detail what it takes to create an effective and consistent brand. I hope you find it helpful in your voice acting endeavors.
Thanks for listening!
Download Voice Acting Mastery Episode #75 Here (MP3)