Posted by
Crispin Freeman
on Apr 16, 2014 in
Acting
,
Animation
,
Anime
,
Appearances
,
Audiobooks
,
Casting
,
Commercials
,
Mindset
,
Podcast Episodes
,
Video Games
,
Vocal Health
|
31 comments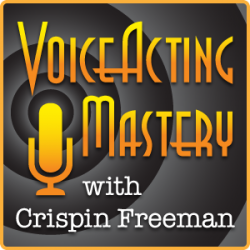 VAM 074 | From Fan to Pro, or, How to Be a "Famous" Voice Actor
Welcome to episode 74 of the Voice Acting Mastery podcast with yours truly, Crispin Freeman!
As always, you can listen to the podcast using the player above, or download the mp3 using the link at the bottom of this blog post. The podcast is also available via the iTunes Store online. Just follow this link to view the podcast in iTunes:
http://www.voiceactingmastery.com/podcast
In this episode I want to expand on a subject I addressed in my previous episode, #73. In it, one of my listeners asked about how an aspiring voice actor who may be a fan should approach an established professional they admire. Trying to answer this question made me realize that I needed to spend much more than just part of an episode talking about the fan/creator relationship.
In all my years as a voice actor, no fan has ever asked me what they need to do to prepare psychologically for the huge identity shift that must occur once you're no longer a fan looking in, but a creator looking out. Maybe it's because the two paradigms are so different that fans can't imagine what it's actually like to be on the receiving end of their own attention, or maybe it's just a case of "the grass is always greener on the other side", but being a well-known creator comes with its own challenges, and if you're thinking of getting into voice acting for the "fame", there are some things you need to know before you "make it big".
First, you need to make a decision: Your choices are to "Impress" or to "Express". Depending on which choice you make determines the nature of your artistic career.
Making that choice also helps you decide on another important skill you need to develop: your public persona. This is how you will interact with the world as public figure. It's vital that you shape your professional avatar in such a way that it stays true to your artistic values.
I talk about both of these subjects in depth in this episode. It's heavy stuff, but important if you want to maintain a healthy career, both artistically and emotionally.
Fame can be a very fickle thing and I want to give my listeners the tools they need to deal with becoming a public figure.
Thanks for listening!
Download Voice Acting Mastery Episode #74 Here (MP3)