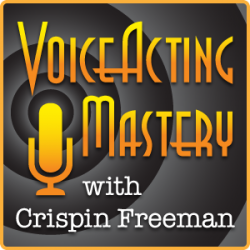 VAM 048 | Interview with Steve Blum, Part 3
Welcome to episode 48 of the Voice Acting Mastery podcast with yours truly, Crispin Freeman!
As always, you can listen to the podcast using the player above, or download the mp3 using the link at the bottom of this blog post. The podcast is also available via the iTunes Store online. Just follow this link to view the podcast in iTunes:
http://www.voiceactingmastery.com/podcast
This week, I bring you the third part of my interview with the amazingly talented Steve Blum. In the past two episodes, Steve has told me how he approaches voice acting as well as his rather unconventional story about how he broke into the business. For this episode, Steve graciously shared some of the greatest challenges he faced as a voice actor. Actors are not always comfortable discussing when they've had difficulties pursuing their career. It can be a sore subject. So I'm especially grateful that Steve was willing to be so honest and candid about what it took for him to overcome some of the obstacles he faced. I found it incredibly inspiring and I'm sure you will too.
If you'd like to learn more about Steve, please visit his website: www.SteveBlumVoices.com
Thanks for listening!
Download Voice Acting Mastery Episode #48 Here (MP3)