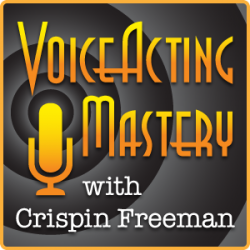 VAM 009 | Building Confidence
Welcome to the ninth episode of the Voice Acting Mastery podcast with yours truly, Crispin Freeman!
As always, you can listen to the podcast using the player above, or download the mp3 using the link at the bottom of this blog post. The podcast is also available via the iTunes Store online. Just follow this link to view the podcast in iTunes:
http://www.voiceactingmastery.com/podcast
In this episode, I address an issue that's come up a lot here on the Voice Acting Mastery Blog. In fact, it's one of the most common questions I get from aspiring voice actors:
What can I do to be more confident?
It's an important topic and one that I felt deserved an in-depth answer. I do my best to outline the actions any person takes to try and bolster one's confidence. However, I also reveal the important mental shift that must take place for any of those actions to have a truly lasting effect. I also tell the story of what I went through when I was trying to find my confidence as a young actor. I think you'll find it enlightening.
If you have any questions, please post your question as a comment to this blog post. Chances are, someone else has a similar question. By posting your question here on the blog, I get to communicate with all of you at once.
Thanks for listening!
Download Voice Acting Mastery Episode #9 Here (MP3)