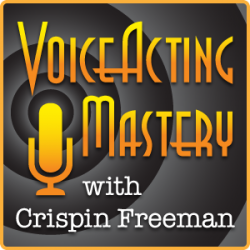 VAM 026 | Discovering Your Character Types
Welcome to episode 26 of the Voice Acting Mastery podcast with yours truly, Crispin Freeman!
As always, you can listen to the podcast using the player above, or download the mp3 using the link at the bottom of this blog post. The podcast is also available via the iTunes Store online. Just follow this link to view the podcast in iTunes:
http://www.voiceactingmastery.com/podcast
In this episode, I talk about a very important aspect of voice acting that is often overlooked and sometimes deeply misunderstood. I mentioned it in episode 22 of the podcast, where I outlined 5 Essential Steps for Voice Acting Beginners. It was step 3 in that list of 5 and it is this:
You must discover your Character Types.
It is vitally important to your success as an actor to understand which kinds of characters you can believably and competitively play. This is true of acting regardless of the medium in which you're performing, but it is especially true in voice acting. Most people think that a voice actor can and should play any character they want to. While this is theoretically true, the reality is that there are always going to be certain types of characters that suit your voice better than others. Without understanding which characters are most appropriate for your voice, chances are you will try to audition for roles that do not suit you. Doing so lowers your chances of getting hired. This can make you incredibly frustrated as you try out for role after role and can't seem to make any headway.
Let me help you avoid that headache. I want to explain to you just how important it is to understand which characters do and do not suit your voice. Armed with that knowledge, your chances of getting cast will improve astronomically.
Download Voice Acting Mastery Episode #26 Here (MP3)