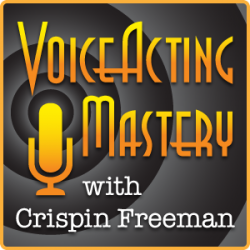 VAM 100 | Voice Acting Mastery Reflections, Advice, and Special Announcements!
Welcome to episode 100 of the Voice Acting Mastery podcast with yours truly, Crispin Freeman!
As always, you can listen to the podcast using the player above, or download the mp3 using the link at the bottom of this blog post. The podcast is also available via the iTunes Store online. Just follow this link to view the podcast in iTunes:
http://www.voiceactingmastery.com/podcast
Well, it's hard for me to believe, but this is the 100th episode of the Voice Acting Mastery podcast! Little did I know back in July of 2011 that I would find myself almost 4 years later having achieved this milestone. This podcast has covered lots of ground and reached people all over the globe. In fact, as of the release of this episode in April 2015, there have been almost 1 million downloads of the podcast worldwide!
I'd like to express my gratitude to all of you who have spent so much time listening to the podcast. I know many of you have been with me since the very beginning, and I appreciate each and every one of you! And for those of my audience for whom this is their first episode, congratulations! You've got 99 other exciting episodes to look forward to! I hope each episode helps you expand your understanding, appreciation and practice of the art of voice acting.
Since this is the 100th episode, I thought it would be appropriate to take some time to reflect on how far the podcast has come, take stock of where things are and then talk a little bit about the exciting new direction that Voice Acting Mastery will be taking in the future! I hope you enjoy the episode!
Download Voice Acting Mastery Episode #100 Here (MP3)