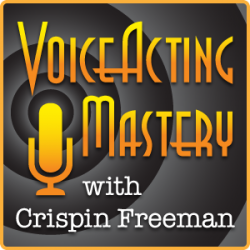 VAM 073 | Q & A Session 13 – How to Approach Voice Actors & Can I Fix a Bad First Impression
Welcome to episode 73 of the Voice Acting Mastery podcast with yours truly, Crispin Freeman!
As always, you can listen to the podcast using the player above, or download the mp3 using the link at the bottom of this blog post. The podcast is also available via the iTunes Store online. Just follow this link to view the podcast in iTunes:
http://www.voiceactingmastery.com/podcast
In this episode, I continue answering questions from my podcast audience! For those who may not be as familiar with the podcast, in past episodes, I've given out a phone number where you can call in and leave me a question about voice acting as a voicemail. From time to time, I'll pick the most relevant questions I receive and answer them here on the podcast.
For this round of Q & A, I answer questions from Wesley from Thousand Oaks, CA and James from Dallas, TX.
Wesley has learned through experience how important it is to act professionally towards voice actors. He'd like me to expand on that idea of acting professionally so that others can understand the value of acting professionally.
I'm happy to expand on the idea of professionalism and I'm glad Wesley brought up the topic.
I talk at length about how to think and act like a professional in episode 30 of the podcast. I also explain what is expected of professional voice actors in the booth in episode 31.
However, what Wesley seems to be describing is how someone who may be a fan of certain characters or voice actors should interact with industry professionals. What's the best way to approach those whose artistic work you admire deeply?
Creative people, like anyone, want to be treated with courtesy and respect. No matter how enthusiastic a fan may be, if they cannot act in a courteous way towards a creator, the creator will want to avoid that fan. If you are a fan and you would like to join the ranks of industry professionals, I explain how to educate yourself and change your mindset so you can talk to them as an equal, and not like a fan who wants or needs something from them.
James had an opportunity to audition for a studio, but has yet to hear back from them. He worries that he may have made a bad first impression. He wants to know how to approach them so that he can make a better impression the second time around.
I explain to James that while it is true that we never get a second chance to make a first impression, I believe that it is always possible to impress someone in the industry the second time around. It just takes a little more work.
The best way I know to regain the interest of an industry professional is to go out and make good art. Go work on other projects. Start your own projects. Get out there and hustle a bit and apply your artistic skills in any project you can. Once you have created something or worked on something that is measurably successful, you can then share your success with industry professionals.
However, it is vitally important NOT to overwhelm those professionals with every little thing you might be working on.
I explain to James how to communicate his successes in projects in a professional manner so he can avoid annoying or harassing the very people he's trying to impress.
I hope you find the answers useful in your own voice acting endeavors!
If any of my listeners would like to call in with your own thoughts, thank you's or questions, the number is:
323-696-2655.
Please don't forget to include your first name and what city in the world you're calling from. I'm looking forward to hearing from you!
Thanks for listening!
Download Voice Acting Mastery Episode #73 Here (MP3)