VAM 020 | Interview with J.B. Blanc, Accent Coach, Part 2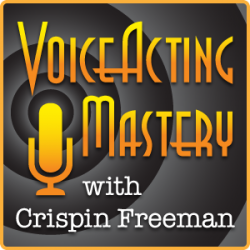 Welcome to episode 20 of the Voice Acting Mastery podcast with yours truly, Crispin Freeman!
As always, you can listen to the podcast using the player above, or download the mp3 using the link at the bottom of this blog post. The podcast is also available via the iTunes Store online. Just follow this link to view the podcast in iTunes:
http://www.voiceactingmastery.com/podcast
This is the second part of my interview with my fellow voice actor and accent expert, J.B. Blanc. In this episode we explore the difference between having regionalisms in your natural speech patterns versus actually having a physical speech impediment.
We also discuss the psychological aspects of accents. Your accent is the survival technique you adopted when you were young in order to survive in your surroundings. For some people, being asked to modify the way they speak can feel very threatening. J.B. shares with me the techniques he uses when coaching A-List celebrity actors with their accents.
You can find out more about J.B. at his website:
We'll finish up our discussion of accents in the next episode!
Thanks for listening!
Download Voice Acting Mastery Episode #20 Here (MP3)