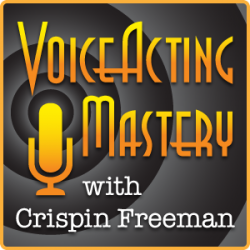 VAM 010 | How to Practice Voice Acting Anywhere
Welcome to episode 10 of the Voice Acting Mastery podcast with yours truly, Crispin Freeman!
As always, you can listen to the podcast using the player above, or download the mp3 using the link at the bottom of this blog post. The podcast is also available via the iTunes Store online. Just follow this link to view the podcast in iTunes:
http://www.voiceactingmastery.com/podcast
In this episode, I give practical advice on how to practice your voice acting skills no matter where you are.
So many of my listeners have told me how much they enjoy the podcast. Some listeners espouse a belief that because they're not located in the right area that they are unable to improve their voice acting skills. I decided to dedicate this entire episode to giving you practical ideas about how to practice voice acting no matter where you're located.
The truth of the matter is, if you really want to do something, nothing will stop you. This is true in all aspects of life. A burning desire to achieve a goal will inspire a resourcefulness in you that will surprise you.
One of the most important aspects is identifying yourself as a voice actor and then asking yourself a series of logical questions:
I am a voice actor. What does a voice actor do?
A voice actor acts. What is acting?
Acting is playing pretend so believably that people will pay you to do it. How do you achieve that level of skill?
By practicing. Where does one practice acting?
That is the question I spend most of the episode answering. There are all sorts of places you can practice your acting skills and I address many of them in this podcast including:
Classes: High School, College and Community College
Community Theater: Acting with a multi-generational troupe of performers is enlightening
Online Voice Acting Communities: Websites where you can post your work and get feedback
Individual Study: Mimicking other voice actors can help you expand your range
I'm sure many of you out there have even more ideas about how one can practice their voice acting no matter where you're located. I look forward to your suggestions, advice and comments here on the blog!
If you have any questions, please post your question as a comment to this blog post. Chances are, someone else has a similar question. By posting your question here on the blog, I get to communicate with all of you at once.
Thanks for listening!
Download Voice Acting Mastery Episode #10 Here (MP3)