VAM 001 | 7 Most Common Questions About Voice Acting, Part 1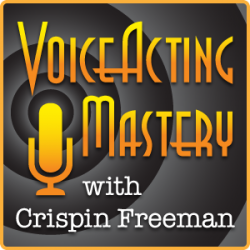 Welcome to the first episode of the Voice Acting Mastery podcast with yours truly, Crispin Freeman!
You can listen to the podcast using the player above, or download the mp3 using the link at the bottom of this blog post. Additionally, I'll be submitting the podcast feed to iTunes in the near future, so you'll be able to subscribe through the iTunes Music store if you'd like. I'll let you know when that's up and ready to go!
This is the first in a series of episodes where I'll be addressing the 7 Most Common Questions I get asked about voice acting, starting with the most obvious:
"How do I get into voice acting?"
In this episode I'll be answering that question by discussing the 6 criteria that all successful voice actors have in common. Then I'll move on to the remaining 6 questions in subsequent podcasts.
I have big plans for this podcast, so stay tuned for more info!
Also, if you have any topic you'd like me to address in the podcast or here on my blog, please feel free to leave a comment below.
Thanks for listening!
Download Voice Acting Mastery Episode #1 Here (MP3)