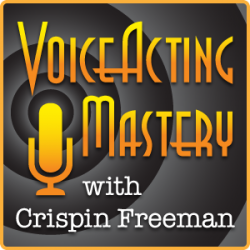 VAM 008 | Interview with Wes Davis, Part 3
Welcome to the eighth episode of the Voice Acting Mastery podcast with yours truly, Crispin Freeman!
As always, you can listen to the podcast using the player above, or download the mp3 using the link at the bottom of this blog post. The podcast is also available via the iTunes Store online. Just follow this link to view the podcast in iTunes:
http://www.voiceactingmastery.com/podcast
This is the third and final part of my interview with Wes Davis. If you'd like to learn more about Wes, feel free to check out his voice acting website:
In this episode, we get into some of the most important issues when pursuing a voice acting career including:
Where does your confidence come from?
How do you warm-up before a voice acting job?
How do you achieve your goals?
What do you say to yourself to keep from being discouraged?
In the next episode, I'll be addressing an issue that has been asked many times in the comments here on the website: "What can I do to be more confident?" I look forward to giving you my take on it in the next episode!
As always, I welcome your questions and feedback! If you feel inspired, please leave a comment on this blog post.
Thanks for listening!
Download Voice Acting Mastery Episode #8 Here (MP3)