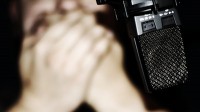 Here's a great blog post from a good friend of mine, Juan Carlos Bagnell. Juan works as a casting director at one of the most prestigious casting offices in LA, the Voicecaster. He uses the online moniker of "SomeAudioGuy" but trust me, he is THE Audio guy. Not only is Juan a fantastic director, but he can articulate how he does what he does which is invaluable!
I highly suggest you check out his blog post on "The Art of the Pick Up" or how to recover once you've flubbed a line in the booth. Juan shares some great insight as someone who works with top talent voice actors every day. He sees what works and what doesn't and his eye for subtlety and nuance never ceases to amaze me. Whenever he's directing me in the booth, I know I'm in the best hands.
You can also check out his online web series called, Movies You May Have Missed or MYMHM for short. He does wonderful reviews of seldom seen but valuable movies with his show partner, Lee. He's even done an interview with me about zombies, vampires and other mythological subjects in film and horror.