Posted by
Crispin Freeman
on Oct 30, 2013 in
Acting
,
Agents
,
Animation
,
Casting
,
Commercials
,
Demos
,
Interviews
,
Mindset
,
Podcast Episodes
,
Video Games
|
9 comments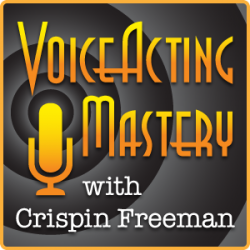 VAM 062 | Interview with Jennifer Taylor Lawrence, Part 2
Welcome to episode 62 of the Voice Acting Mastery podcast with yours truly, Crispin Freeman!
As always, you can listen to the podcast using the player above, or download the mp3 using the link at the bottom of this blog post. The podcast is also available via the iTunes Store online. Just follow this link to view the podcast in iTunes:
http://www.voiceactingmastery.com/podcast
In this episode, I continue my interview with UK and US based voice actress Jennifer Taylor Lawrence. You may be familiar with her work in the video game Killzone where she plays the role of Shadow Marshal Luger. In addition to her voice acting and on-camera acting accomplishments, Jennifer was kind enough to record the introduction voice-over for this podcast.
During the second part of our conversation, Jennifer discusses what aspect of her dancing and theater training she finds most useful in her voice acting career. She also talks to me about the differences between the US and UK voice over industries. I was surprised by how differently the casting process works in each country and how important your demo is in the UK market! I found it very enlightening, and I hope you will too!
Download Voice Acting Mastery Episode #62 Here (MP3)