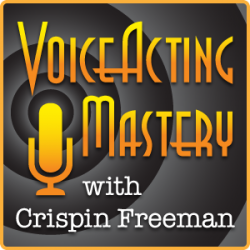 VAM 056 | Interview with Monica Rial, Part 3
Welcome to episode 56 of the Voice Acting Mastery podcast with yours truly, Crispin Freeman!
As always, you can listen to the podcast using the player above, or download the mp3 using the link at the bottom of this blog post. The podcast is also available via the iTunes Store online. Just follow this link to view the podcast in iTunes:
http://www.voiceactingmastery.com/podcast
This is part 3 of my interview with the wonderfully talented Monica Rial! You can check out her amazingly long list of anime credits on the Anime News Network website!
As we wrap up our discussion of the Texas voice acting market, Monica explains how to approach companies like Funimation and Sentai Filmworks in order to audition for voice acting roles in anime. She also explains what you'll need to do in order to be truly competitive as a voice actor.
Then, Monica shares with me her 3 part checklist of things she wants every aspiring voice actor to know about before going in to audition:
Study your craft.

Find your archetype.
Don't fan out.
Monica expands on this checklist and shares all sorts of insider information. Trust me, it will save you a lot of heartache!
Download Voice Acting Mastery Episode #56 Here (MP3)