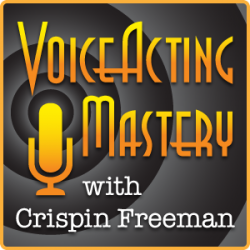 VAM 049 | Interview with Steve Blum, Part 4
Welcome to episode 49 of the Voice Acting Mastery podcast with yours truly, Crispin Freeman!
As always, you can listen to the podcast using the player above, or download the mp3 using the link at the bottom of this blog post. The podcast is also available via the iTunes Store online. Just follow this link to view the podcast in iTunes:
http://www.voiceactingmastery.com/podcast
Welcome to the fourth and final part of my interview with Steve Blum. In this bonus episode, Steve and I go beyond simple mindset advice about voice acting as the two of us discuss the deep, mystical magic behind what it takes to be truly successful as an artist. Steve shares with me some of his more spiritual views on voice acting and how the universe reflects back to you the thoughts and emotions that you project. During the interview, I started us down this path of discussion by recounting one of my favorite scenes from the famous swashbuckling adventure film, the Seahawk, starring Errol Flynn. You'll hear me describe the scene to Steve as a powerful metaphor for trusting in one's inspiration to find your own way to happiness and success. I think you'll find it very enlightening.
If you'd like to learn more about Steve, please visit his website: www.SteveBlumVoices.com
Thanks for listening!
Download Voice Acting Mastery Episode #49 Here (MP3)