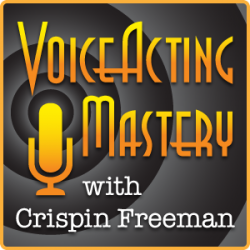 VAM 041 | Interview with Juan Carlos Bagnell, Commercial VO Casting Director, Part 1
Welcome to episode 41 of the Voice Acting Mastery podcast with yours truly, Crispin Freeman!
As always, you can listen to the podcast using the player above, or download the mp3 using the link at the bottom of this blog post. The podcast is also available via the iTunes Store online. Just follow this link to view the podcast in iTunes:
http://www.voiceactingmastery.com/podcast
For this episode, I'm going to be interviewing my good friend and commercial voice over casting director, Juan Carlos Bagnell. Juan is perfectly positioned to give some amazing insight on what it takes to be successful as a voice actor in commercials. He started working at Abrams Artists, one of the top voice over agencies in Los Angeles, and then became a casting director at one of the top voice over casting offices in LA, the Voicecaster in Burbank. Juan has worked with some of the most talented voice actors in the business and he's fantastic at articulating his ideas and advice on voice acting. I'm honored to have him on the podcast, and I hope you enjoy hearing from him too!
One of the best things you can do to improve your chances of booking a voice over job is to understand the mindset of the people producing and casting a project. Juan has been part of that process thousands of times and has learned his lessons in the trenches. His knowledge of the current trends in commercials comes from hands-on experience. He also runs a fantastic blog on voice over at www.someaudioguy.com. You should definitely check it out! In the next interview, Juan and I will address some common misconceptions about commercial voice over, and we'll discuss some important ideas to keep in mind as you approach commercials.
Thanks for listening!
Download Voice Acting Mastery Episode #41 Here (MP3)