VAM 021 | Interview with J.B. Blanc, Accent Coach, Part 3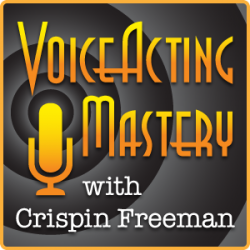 Welcome to episode 21 of the Voice Acting Mastery podcast with yours truly, Crispin Freeman!
As always, you can listen to the podcast using the player above, or download the mp3 using the link at the bottom of this blog post. The podcast is also available via the iTunes Store online. Just follow this link to view the podcast in iTunes:
http://www.voiceactingmastery.com/podcast
This is the third and final part of my interview with my fellow voice actor and accent expert, J.B. Blanc.
In this episode we conclude our discussion by talking about a number of different topics including:
What someone can do to work on an accent by themselves.
JB's favorite resource online for researching accents. (Hint: it's the International Dialects of English Archive or IDEA)
Realizing that not everyone speaks a certain dialect in the exact same way.
How to contact JB to get individual coaching from him. (Hint, visit his website: http://www.jbblanc.com/)
A big thanks to JB for spending time with me talking in so much detail about such an important topic. And thanks to you for listening!
Download Voice Acting Mastery Episode #21 Here (MP3)