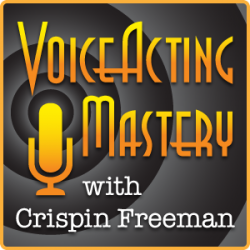 VAM 007 | Interview with Wes Davis, Part 2
Welcome to the seventh episode of the Voice Acting Mastery podcast with yours truly, Crispin Freeman!
As always, you can listen to the podcast using the player above, or download the mp3 using the link at the bottom of this blog post. The podcast is also available via the iTunes Store online. Just follow this link to view the podcast in iTunes:
http://www.voiceactingmastery.com/podcast
This is the second part of my interview with Wes Davis, a young and talented voice actor who was gracious enough to sit down with me and talk about his experiences breaking into the voice over business. If you'd like to learn more about Wes, feel free to check out his voice acting website:
In this episode, we get into some of the most important issues when pursuing a voice acting career including:
How do you get voice acting jobs?
What's the most useful thing you've learned from your voice acting classes?
What's the most common mistake people make in class?
What really kicked your voice acting career into a higher gear?
In the next episode, Wes and I will be discussing how he finds his confidence, his techniques for keeping a positive outlook and his ambitious plans for the future!
As always, I welcome your questions and feedback! If you feel inspired, please leave a comment on this blog post.
Thanks for listening!
Download Voice Acting Mastery Episode #7 Here (MP3)