Posted by
Crispin Freeman
on Sep 18, 2013 in
Acting
,
Animation
,
Anime
,
Booth Etiquette
,
LA Voice Acting Workshops
,
Microphone Technique
,
Mindset
,
Podcast Episodes
,
Video Games
,
Vocal Health
|
13 comments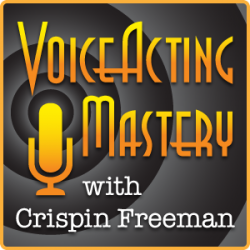 VAM 059 | The Differences Between Voice Acting in Animation, Video Games and Anime
Welcome to episode 59 of the Voice Acting Mastery podcast with yours truly, Crispin Freeman!
As always, you can listen to the podcast using the player above, or download the mp3 using the link at the bottom of this blog post. The podcast is also available via the iTunes Store online. Just follow this link to view the podcast in iTunes:
http://www.voiceactingmastery.com/podcast
In this episode I'd like to share with you what it's like behind the scenes when you're voice acting in Animation, Video Games or Japanese Anime. Each one of these mediums presents unique challenges to a voice actor. While the goal in all of them is the same, to sound believable as a character, they each require a different mindset and set of skills in order to accomplish that goal. It's incredibly helpful to to have an understanding of what acting demands will be placed on you in each of these professional recording environments before you arrive at the studio! I think you'll find it an invaluable introduction so you're not caught flat-footed when you enter a studio!
Thanks for listening!
Download Voice Acting Mastery Episode #59 Here (MP3)