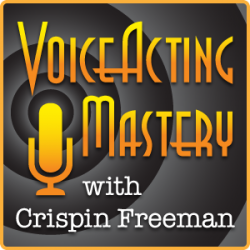 VAM 051 | Social Skills: The Secret to Better Voice Acting
Welcome to episode 51 of the Voice Acting Mastery podcast with yours truly, Crispin Freeman!
As always, you can listen to the podcast using the player above, or download the mp3 using the link at the bottom of this blog post. The podcast is also available via the iTunes Store online. Just follow this link to view the podcast in iTunes:
http://www.voiceactingmastery.com/podcast
In this episode I'd like to talk to you about acting. Specifically I want to show you how acting is not about "creating a performance" as much as it is bringing a character to life by calling upon your own personal experience as a human being interacting with other people.
It is my opinion that actors rely heavily on the social skills that they have developed over their lifetime to bring believability to their performances.
Often my students misunderstand the acting process and think it's about demonstrating a character or "putting on" a voice. They think there is a "right way" to perform a line of dialogue and they strive to achieve acting success by honing in on that "correct" performance. I suffered from this same misconception when I started acting, but it turns out there is no "right way" to read a line. There is only what is believable within the circumstances of a scene. In order to create a believable performance, you must call upon your own personal experiences of interacting with people in social environments and apply that knowledge to your character. You must infuse your character with your own life experience.
I take this episode to explain exactly what I mean in detail and I also offer three different techniques to improve your social skills. I hope you find it useful!
Download Voice Acting Mastery Episode #51 Here (MP3)