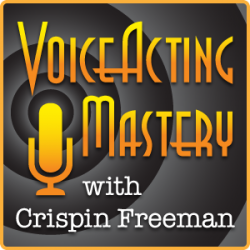 VAM 130 | Interview with Zach Hanks, Part 3
Welcome to episode 130 of the Voice Acting Mastery podcast with yours truly, Crispin Freeman!
As always, you can listen to the podcast using the player above, or download the mp3 using the link at the bottom of this blog post. The podcast is also available via the iTunes Store online. Just follow this link to view the podcast in iTunes:
http://www.voiceactingmastery.com/podcast
Welcome to the third and final part of my interview with voice actor, director and teacher, Zach Hanks! You may be familiar with his performances as Garnac in the animated series Star Wars: The Clone Wars, Morgan and Custis Pendleton in the video game Dishonored and Lars Halford in the game Brutal Legend.
Not only is Zach a voice actor, but he's also worked as both a voice director and casting director on multiple video game projects. In addition, Zach has taught voice acting as a professor at the Stephen F. Austin State University in Eastern Texas. He currently resides in Atlanta where he is continuing to pursue his own voice over career in addition to founding the Voice Over Career Launch Pad, a service that helps voice over artists learn the skills they need to become business-savvy professionals in the industry.
In the previous episode, we explored major turning points in Zach's varied career and the very practical lessons he learned from each of them. As we conclude our time together, Zach and I discuss his experience as a college professor and the most common mistakes that students tended to make in his acting classes. The time Zach spent working with those students helped him shape his current education program, the Voice Over Career Launch Pad. Zach observed that around the country there were many fine voice performance classes taught by very reputable teachers. Where he saw a lack of education was for voice actors who wanted to develop the technical and business skills that they needed to be competent and reliable in the voice over marketplace. Zach's experiences as an actor, director, and professor give him a unique understanding of what it takes to help people get their voice over careers up and running as quickly as possible. But I'll let Zach tell you more about all of those topics himself.
Zach's Facebook Group: Voice Over Career Launch Pad
Zach's Auto-Scheduler: Schedule an Online Meeting with Zach Hanks
Download Voice Acting Mastery Episode #130 Here (MP3)