Posted by
Crispin Freeman
on Dec 20, 2017 in
Accents & Dialects
,
Acting
,
Animation
,
Audiobooks
,
Casting
,
Interviews
,
Microphone Technique
,
Mindset
,
Podcast Episodes
,
Video Games
|
0 comments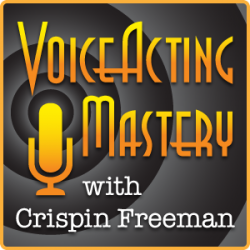 VAM 132 | Interview with Eliza Jane Schneider, Part 2
Welcome to episode 132 of the Voice Acting Mastery podcast with yours truly, Crispin Freeman!
As always, you can listen to the podcast using the player above, or download the mp3 using the link at the bottom of this blog post. The podcast is also available via the iTunes Store online. Just follow this link to view the podcast in iTunes:
http://www.voiceactingmastery.com/podcast
Welcome to the second part of my interview with voice actor and dialect expert, Eliza Jane Schneider! You may be familiar with her work voicing almost all of the female characters on the animated series South Park in the years between 1999 and 2003. Eliza and I have also been in a number of projects together including Diablo III where I played the Male Wizard and she played the Female Necromancer, and also the Pirates of the Caribbean video games where I voice match Orlando Bloom to play Will Turner while she voice matches Keira Knightly to play Elizabeth Swann.
In addition to her many acting accomplishments, Eliza is incredibly dedicated to the study and mastery of English language dialects. She is a highly sought after accent coach and I'm very happy to have her on the podcast to share her insight and expertise with all my listeners!
In the previous episode, Eliza told us how she broke into the entertainment industry, first as an on-camera actress, and later as a voice actress. In this segment of our interview, we discuss her dialect work and how her music training as a young girl helped inform her technique for mastering different accents. Her ability to hear fine nuances in how people pronounce their words has allowed her to create her own unique way of teaching accents to performers. In fact, in this episode she puts me through my paces and helps me improve my own Australian accent! I think you'll find her insight as enlightening as I did!
If you would like to learn more about Eliza's dialect training, please visit her website at:
Download Voice Acting Mastery Episode #132 Here (MP3)