Posted by
Crispin Freeman
on Apr 19, 2017 in
Accents & Dialects
,
Acting
,
Agents
,
Animation
,
Audiobooks
,
Booth Etiquette
,
Casting
,
Commercials
,
Demos
,
Improv
,
Interviews
,
LA Voice Acting Workshops
,
Microphone Technique
,
Mindset
,
Podcast Episodes
,
Recording Gear
,
Video Games
,
Vocal Health
|
3 comments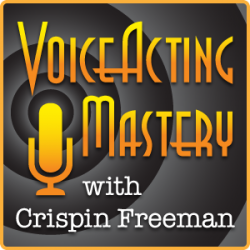 VAM 124 | Interview with Richard Tatum, Part 2
Welcome to episode 124 of the Voice Acting Mastery podcast with yours truly, Crispin Freeman!
As always, you can listen to the podcast using the player above, or download the mp3 using the link at the bottom of this blog post. The podcast is also available via the iTunes Store online. Just follow this link to view the podcast in iTunes:
http://www.voiceactingmastery.com/podcast
This is the second part of my interview with my good friend Richard Tatum! Richard is not only an accomplished voice actor, and voice over teacher, but also an amazing producer of voice over demos. You may know him as Rex Goodman in Fallout 4, the voice of Theodore Roosevelt in Civilization VI and Omar Harmozi from the animated series Static Shock. I first came across Richard's work as a demo producer when one of my students played me her demos and I was blown away by how well they represented her abilities as an actress. Not only was her character demo very compelling, but her commercial demo was impressive as well. When I asked her who had produced them, she introduced me to Richard and he and I have been friends ever since.
In our previous interview segment, we discussed the beginning of Richard's acting journey and how his strong theatrical acting background helped him pursue a voice over career. Amazingly, Richard broke into voice acting not just once, but twice! The first time was around 1996 when he got his first agent and started booking voice over work in Los Angeles. Unfortunately, when the actor's union strike against commercials in 1999 dragged on for 6 months, Richard found that he needed to pursue other employment opportunities outside of voice over. Years later, in 2011, he decided to approach voice acting again. This time around he had a more methodical approach as well as far more experience under his belt. I think it's incredibly useful to hear what changed and what stayed the same between both time periods when it comes to trying to break into the voice acting world.
In this episode, we'll talk about how Richard began producing demos for voice actors. Through some wonderful synchronicity, Richard was able to join forces with a colleague of his to start coaching voice actors as well as help develop their demos. Not only do we discuss what you should and should not put on your demo, Richard also explains the mindset you need to have in order to use that demo to market yourself effectively to agents and casting directors. I certainly learned a lot from this segment with Richard and I'm sure you will as well!
If you'd like to find out more about Richard's classes and voice over demo services, please visit his website at:
AbsoluteVoiceOverLA.com
or contact him via e-mail at:
AbsoluteVOLA@gmail.com
Thanks for listening!
Download Voice Acting Mastery Episode #124 Here (MP3)