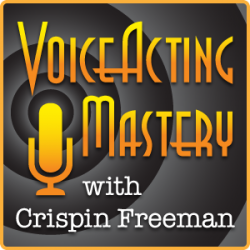 VAM 120 | How Long Does It Take to Become a Professional Voice Actor?
Welcome to episode 120 of the Voice Acting Mastery podcast with yours truly, Crispin Freeman!
As always, you can listen to the podcast using the player above, or download the mp3 using the link at the bottom of this blog post. The podcast is also available via the iTunes Store online. Just follow this link to view the podcast in iTunes:
http://www.voiceactingmastery.com/podcast
In this episode I want to talk about a pattern I've been noticing among my students lately. During class or in private coaching sessions, or even in conversations outside of class, I've had some students express either frustration or impatience with their level of progress when it comes to voice acting. More than one student has said something like," Well, I've taken x amount of classes, (sometimes as few as 2, sometimes many more), and I'm still not getting the success I want." Since this is a common refrain many aspiring voice actors may hear, whether from your peers or from yourself, I'd like to take this opportunity to address how to set your expectations about when you should achieve voice acting success. While I can almost guarantee that those of you who think you should be professionally competitive after just 2 classes are being a bit unrealistic, I can also understand how frustrating it can be not to know how how long you'll need to study and practice voice acting before you'll really "make it" in the industry.
This question becomes especially acute for students of voice acting who may have invested a lot of time and money into developing their voice acting skills but are still unsatisfied by their current ability to book work. They can often feel discouraged and self-critical which can lead to a downward spiral of demoralizing bitterness, especially if they compare themselves to peers who may be doing better than they are.
I wish I could provide these students with an official time table that could assure them that everything is on schedule and going according to plan. Unfortunately, developing one's own artistic creativity rarely conforms to a regular schedule. Growing as an artist is almost never a linear process, because every artist is different. Some aspects of acting may come easily to you while others may require long periods of struggle before you finally achieve a breakthrough. You might ask me how I know this. It's because I've had those same frustrations myself. While I've had incredible highs of artistic achievement and fulfillment along my voice acting path, I've also travelled through valleys of depression, wondering if I was ever going to be good enough to achieve my dreams. If you're listening now and feeling frustrated or stuck, please know that you are not alone. Almost every successful voice actor has been there, including myself.
Allow me to spend this episode helping you to set more empowering expectations, and also encouraging you to be patient and honest with yourself. Many great artists have faced challenges like yours and overcome them. This means you can too. I want to share with you some stories that I've found inspiring when I've been at my lowest. I'll also discuss how to apply this inspiration to your own artistic journey.
In the episode I recommend the film Vanya on 42nd Street to those who are interested in seeing some amazingly transparent acting. You can buy it here on Amazon.
Download Voice Acting Mastery Episode #120 Here (MP3)