Posted by
Crispin Freeman
on Aug 20, 2014 in
Acting
,
Agents
,
Animation
,
Anime
,
Audiobooks
,
Booth Etiquette
,
Casting
,
Commercials
,
Improv
,
Mindset
,
Podcast Episodes
,
Video Games
|
16 comments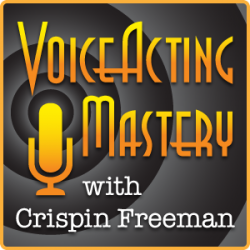 VAM 083 | How to Work Successfully with Producers and Casting Directors
Welcome to episode 83 of the Voice Acting Mastery podcast with yours truly, Crispin Freeman!
As always, you can listen to the podcast using the player above, or download the mp3 using the link at the bottom of this blog post. The podcast is also available via the iTunes Store online. Just follow this link to view the podcast in iTunes:
http://www.voiceactingmastery.com/podcast
In the last episode, I talked at length about agents and managers. Specifically, I explained how to build a fruitful relationship with an agent by understanding what is their responsibility as your representative and what is your responsibility as their client. I also discussed the differences between agents and managers to ensure that there was no confusion among my listeners about the different jurisdictions and approaches of these two kinds of professionals.
In this episode, I'd like to talk about how best to interact with Producers and Casting Directors. I want to help you understand the mindset of producers since they are the ones who usually have the final say about who does and does not get hired to play a voice acting role. This may come as a surprise to some aspiring voice actors who might think that this decision gets made by a show's voice director. While a voice director's creative input is definitely considered during the initial casting stage, it is almost always the producer who finally decides which actors will play which characters.
Sometimes, producers will hire an industry professional known as a casting director to help with this process. A casting director can save a lot of the producer's time by helping them narrow down the number of auditions submitted by actors. The casting director serves as a filter, listening to hundreds of submissions and bringing the producer only a final few to be considered for each available role. Even though it has become more common recently for producers to approach actors' agents directly in order to solicit auditions, a good casting director can still play an important role in bringing actors and producers together.
Both producers and casting directors have a problem, one that only you can solve! Check out the episode to learn how best to help them!
Thanks for listening!
Download Voice Acting Mastery Episode #83 Here (MP3)