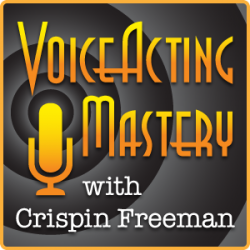 VAM 078 | Interview with Grace Rolek, Part 2
Welcome to episode 78 of the Voice Acting Mastery podcast with yours truly, Crispin Freeman!
As always, you can listen to the podcast using the player above, or download the mp3 using the link at the bottom of this blog post. The podcast is also available via the iTunes Store online. Just follow this link to view the podcast in iTunes:
http://www.voiceactingmastery.com/podcast
This is the second part of my interview with the very talented young voice actress, Grace Rolek. You may have heard Grace's work in shows like Mulan II, Final Fantasy Advent Children and as the voice of Lucy in the Charlie Brown special Happiness is a Warm Blanket. Grace has been voice acting since she was 5 or 6 years old and is 16 at the time of this interview. I was eager to get Grace on the podcast so she could share with all of my listeners what it took for her to become a successful voice actress at such a young age.
In the previous episode, Grace and I were discussing a feeling that almost all actors experience: nervousness. Stage fright is a common problem that many actors struggle with. However, Grace had suggested that it was possible to use one's natural performance anxiety to achieve positive results. So we begin this episode with Grace sharing with us what techniques she uses to help harness her nervous energy and channel it in a constructive way into her acting.
Thanks for listening!
Download Voice Acting Mastery Episode #78 Here (MP3)