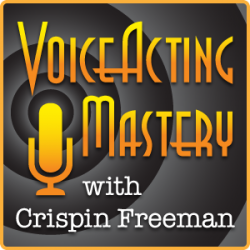 VAM 077 | Interview with Grace Rolek, Part 1
Welcome to episode 77 of the Voice Acting Mastery podcast with yours truly, Crispin Freeman!
As always, you can listen to the podcast using the player above, or download the mp3 using the link at the bottom of this blog post. The podcast is also available via the iTunes Store online. Just follow this link to view the podcast in iTunes:
http://www.voiceactingmastery.com/podcast
In this episode, I interview the very talented young voice actress, Grace Rolek. Grace and I met while recording the animated show Steven Universe for Cartoon Network. I was immediately impressed by Grace's skill and her professional demeanor. I became even more impressed when I realized that Grace, who is now 16, had been voice acting since she was about 5 or 6 years old! From her roles in Mulan II and Final Fantasy Advent Children to playing the voice of Lucy in the Charlie Brown special Happiness is a Warm Blanket, Grace has done an amazing range of work for someone so young.
As a voice actor and a voice acting mentor, I'm often approached by young people who worry that they are not old enough to voice act professionally. While I always assure them that it's possible to voice act at any age, Grace is living proof of that statement. She was generous enough to spend an afternoon talking with me so I can show my listeners what it takes to begin and maintain a voice acting career at a relatively young age. I'm very grateful to her for taking the time to share her experiences with all of you.
I'd also like to thank Andrew Feliciano, the owner of Voicetrax West, for allowing us to record this interview in his studio. Voicetrax West not only provides professional recording services to the LA area, but offers voice over classes as well. You can find more information on the VoiceTrax West website.
Thanks for listening!
Download Voice Acting Mastery Episode #77 Here (MP3)