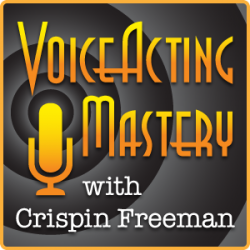 VAM 071 | Interview with Andrea Toyias, Part 4
Welcome to episode 71 of the Voice Acting Mastery podcast with yours truly, Crispin Freeman!
As always, you can listen to the podcast using the player above, or download the mp3 using the link at the bottom of this blog post. The podcast is also available via the iTunes Store online. Just follow this link to view the podcast in iTunes:
http://www.voiceactingmastery.com/podcast
This is the fourth and final part of my interview with my good friend, the incredibly talented voice director, Andrea Toyias. Andrea works for Blizzard Entertainment and has voice directed on such high profile titles as World of Warcraft: Cataclysm and Diablo III. We first met while working on Diablo III, where I played the voice of the Male Wizard. We've admired each other's work ever since.
As we wrap up our discussion, Andrea talks about what it took for her to develop her fantastic directing skills. She also recounts how challenging it was for her when she tried her hand at acting. Her experiences in acting class increased her appreciation for the craft of acting immensely. She also shares with me her final advice to voice actors and why the skill she is looking for in people who audition for her is called "voice acting" and not "voice reading".
It's not every day you get such intimate knowledge of what is going on in a director's head. I'm incredibly grateful to Andrea for being so honest and generous in sharing her challenges and her insights as a director with us.
Download Voice Acting Mastery Episode #71 Here (MP3)