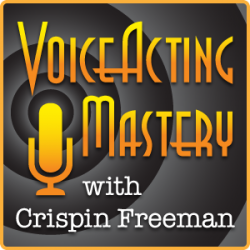 VAM 069 | Interview with Andrea Toyias, Part 2
Welcome to episode 69 of the Voice Acting Mastery podcast with yours truly, Crispin Freeman!
As always, you can listen to the podcast using the player above, or download the mp3 using the link at the bottom of this blog post. The podcast is also available via the iTunes Store online. Just follow this link to view the podcast in iTunes:
http://www.voiceactingmastery.com/podcast
This is the second part of my interview with my good friend, the incredibly talented voice director, Andrea Toyias. Andrea works for Blizzard Entertainment and has voice directed on such high profile titles as World of Warcraft: Cataclysm and Diablo III. We first met while working on Diablo III, where I played the voice of the Male Wizard. We've admired each other's work ever since.
In the last episode, Andrea discussed how she started out as a production assistant at a video game company and worked her way up through the ranks. She edited dialogue, then became a recording engineer and eventually a voice director. She's worked on almost every aspect of the process of recording voice actors from the ground up, which gives her an invaluable perspective on what video game companies are looking for in performers.
In this episode, Andrea shares with me what skills, abilities and mindset she looks for for when casting a voice actor. If you've ever wanted to know what goes through the head of someone who decides which voice actor to hire for a project, you're about to get the inside scoop from Andrea!
Download Voice Acting Mastery Episode #69 Here (MP3)