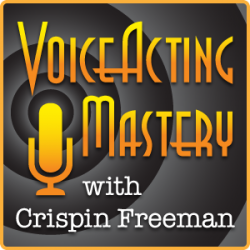 VAM 068 | Interview with Andrea Toyias, Part 1
Welcome to episode 68 of the Voice Acting Mastery podcast with yours truly, Crispin Freeman!
As always, you can listen to the podcast using the player above, or download the mp3 using the link at the bottom of this blog post. The podcast is also available via the iTunes Store online. Just follow this link to view the podcast in iTunes:
http://www.voiceactingmastery.com/podcast
For this episode of the podcast, I'm honored to be able to interview the incredibly talented voice director, Andrea Toyias.

Andrea works for Blizzard Entertainment, one of the most successful video game production companies on the planet. She's directed voice actors on such high profile titles as World of Warcraft: Cataclysm as well as Diablo III. It was on Diablo III, where I was cast as the Male Wizard, that I first got to know and admire Andrea, not only for her wonderful directing skills, but also for her incredibly supportive and generous personality. I've been eager to get her on the podcast for some time now and I'm happy to be able to share our in-depth conversation with all of my listeners.
I think it's vitally important for all voice actors to understand not only what a voice director is looking for in an actor, but also what challenges the director faces when trying to make an artistic project come together well. I cannot overemphasize the importance of learning how to collaborate effectively with voice directors if you want to have a successful voice acting career. Andrea has a lot of wisdom to share on this subject, and I'm sure you'll benefit from her insights.
Download Voice Acting Mastery Episode #68 Here (MP3)