Posted by
Crispin Freeman
on Dec 25, 2013 in
Acting
,
Agents
,
Animation
,
Anime
,
Audiobooks
,
Casting
,
Commercials
,
Mindset
,
Motion Capture
,
Podcast Episodes
,
Video Games
|
28 comments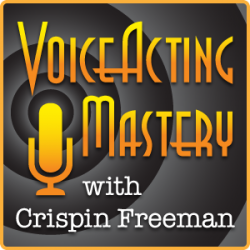 VAM 066 | How to Stay Inspired
Welcome to episode 66 of the Voice Acting Mastery podcast with yours truly, Crispin Freeman!
As always, you can listen to the podcast using the player above, or download the mp3 using the link at the bottom of this blog post. The podcast is also available via the iTunes Store online. Just follow this link to view the podcast in iTunes:
http://www.voiceactingmastery.com/podcast
This episode of Voice Acting Mastery falls near the end of the year in 2013, and in most of the Western world, the holidays are upon us. During the holiday season, many people spend time with family and loved ones. This also tends to be a time when people look back over the year and evaluate what they've accomplished.
Many begin to look forward to the new year and to think about what they hope to achieve in the future. It's a time for year-end planning and New Year's resolutions. It's also a good opportunity to do some mental housecleaning while you visualize your goals for the new year. So in the spirit of planning for another orbit around our sun, I thought I would share with you my experiences and insights when it comes to getting motivated to accomplish your goals.
If you've ever run out of steam or felt overwhelmed when trying to achieve your dreams, this episode is for you!
Happy Holidays and all the best to you in you voice acting endeavors!
Download Voice Acting Mastery Episode #66 Here (MP3)