Posted by
Crispin Freeman
on Dec 11, 2013 in
Acting
,
Animation
,
Anime
,
Casting
,
Commercials
,
Improv
,
Mindset
,
Podcast Episodes
,
Video Games
,
Vocal Health
|
24 comments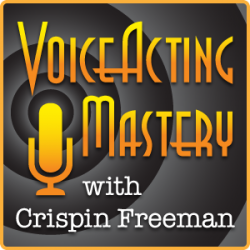 VAM 065 | Q & A Session 11 – What College Courses Do You Need to Become a Voice Actor?
Welcome to episode 65 of the Voice Acting Mastery podcast with yours truly, Crispin Freeman!
As always, you can listen to the podcast using the player above, or download the mp3 using the link at the bottom of this blog post. The podcast is also available via the iTunes Store online. Just follow this link to view the podcast in iTunes:
http://www.voiceactingmastery.com/podcast
In this episode, I continue answering questions from my podcast audience! For those who may not be as familiar with the podcast, in past episodes, I've given out a phone number where you can call in and leave me a question about voice acting as a voicemail. From time to time, I'll pick the most relevant questions I receive and answer them here on the podcast.
For this round of Q & A, I answer questions from Arron from Lake Elsinore, CA and John from New York, NY.
Arron wants to know what classes he should take in college in order prepare himself for a career in voice acting.
His question is a popular one. I often get asked some variation of his question during voice acting panels I attend at conventions. Many people would like to know what classes they should take in college in order to pursue a voice acting career.
I answer his question in detail, but I also help him understand some of the assumptions underneath the question that need to be addressed first. College courses may not be enough to prepare you for a career in the performing arts.
John wants to know if casting directors discriminate against voice actors who don't have a formal education.
I chose John's question specifically to be a counterpoint to Arron's question. Arron is asking me what he needs to study to help develop himself as an artist. John is asking me what casting directors are looking for when it comes to hiring voice actors.
I explain to John that in my experience, no one in voice acting has ever asked me what my grade point average was in college or where I got my diplomas. Not once. Ever.
However, that doesn't mean that it doesn't take training to become a competent and professional voice actor. I tell John exactly what casting directors expect from voice actors.
I hope you find the answers useful in your own voice acting endeavors!
If any of my listeners would like to call in with your own thoughts, thank you's or questions, the number is:
323-696-2655.
Please don't forget to include your first name and what city in the world you're calling from. I'm looking forward to hearing from you!
Thanks for listening!
Download Voice Acting Mastery Episode #65 Here (MP3)