Posted by
Crispin Freeman
on Jul 24, 2013 in
Acting
,
Animation
,
Anime
,
Booth Etiquette
,
Casting
,
Interviews
,
Microphone Technique
,
Mindset
,
Podcast Episodes
,
Video Games
|
9 comments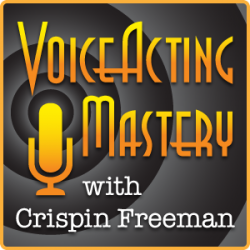 VAM 055 | Interview with Monica Rial, Part 2
Welcome to episode 55 of the Voice Acting Mastery podcast with yours truly, Crispin Freeman!
As always, you can listen to the podcast using the player above, or download the mp3 using the link at the bottom of this blog post. The podcast is also available via the iTunes Store online. Just follow this link to view the podcast in iTunes:
http://www.voiceactingmastery.com/podcast
This is part 2 of my interview with the wonderfully talented Monica Rial! You can check out her amazingly long list of anime credits on the Anime News Network website!
In this part of our conversation, Monica shares with us the skill from her theater acting background that she has found most useful in her voice acting career. Turns out, it's a secret, and Monica shares with me how to use that secret to your advantage! Also, she talks about her own challenge in figuring out which character types suited her voice the best and she gives advice on what you can do to find the character types that fit your voice. I think you'll find it very enlightening!
Download Voice Acting Mastery Episode #55 Here (MP3)