Posted by
Crispin Freeman
on Jun 12, 2013 in
Acting
,
Agents
,
Animation
,
Anime
,
Audiobooks
,
Casting
,
Commercials
,
Mindset
,
Podcast Episodes
,
Vocal Health
|
26 comments
VAM 052 | Q & A Session 06 – High Pitched Characters and Voice Acting Part-Time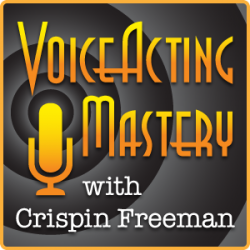 Welcome to episode 52 of the Voice Acting Mastery podcast with yours truly, Crispin Freeman!
As always, you can listen to the podcast using the player above, or download the mp3 using the link at the bottom of this blog post. The podcast is also available via the iTunes Store online. Just follow this link to view the podcast in iTunes:
http://www.voiceactingmastery.com/podcast
In this episode, I continue answering questions that my listeners have been leaving me on the podcast voicemail number. I've been getting so many good questions lately, that it seemed appropriate to go through a number of them. For those who don't know, in past episodes,  I've given out a phone number where you can call in and leave me a question as a voicemail. From time to time, I'll pick the most relevant questions I receive and answer them here on the podcast.
For this round of Q & A, I answer questions from Stuart from Westhill, Scotland and Victor from Rancho Cucamonga, CA.
Stuart wants to know how to do higher pitched characters without his voice cracking or feeling pain in his vocal cords. In order to help him with his question I explain the basics of traditional western vocal production, a skill I learned from my classical singing training. I demonstrate with my own voice the best way to do higher and lower pitched characters without straining your vocal cords. I then explain why one's voice "cracks" and what can be done to minimize the effect.
Victor wonders if it's possible to pursue voice acting part-time instead of full-time. I begin by reiterating the two types of voice over work that I discussed in episode 16 of the podcast:
Narration style voice over
Character style voice over
While it is possible to do one of these on a part-time basis, it is far more difficult to do the other part-time. I talk about what agents and producers are looking for and how if you're going to play in the major leagues of voice acting, you need to show a major league mindset and commitment level.
I hope you find the answers useful in your own voice acting endeavors!
As a reminder, the number where you can call in and ask your question is:
323-696-2655.
Please don't forget to include your first name and what city in the world you're calling from. I'm looking forward to hearing from you!
Thanks for listening!
Download Voice Acting Mastery Episode #52 Here (MP3)