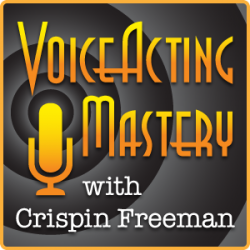 VAM 044 | Do You Think Like an Artist?
Welcome to episode 44 of the Voice Acting Mastery podcast with yours truly, Crispin Freeman!
As always, you can listen to the podcast using the player above, or download the mp3 using the link at the bottom of this blog post. The podcast is also available via the iTunes Store online. Just follow this link to view the podcast in iTunes:
http://www.voiceactingmastery.com/podcast
In this episode I want to ask you a serious question:
Do you think like an artist?
The reason I believe this question is so important is because often I find that many people who are attracted to voice acting, especially for animation and video games, started out as fans of those artistic mediums. That was certainly the case with me. Much of my desire to work as a voice actor was because of my love for animated storytelling. However, as I pursued my dreams of becoming a professional actor, first in theater and then in voice acting, I had to make a mental shift from thinking about working on stories from a fan's point of view to thinking about collaborating on those stories from an artist's point of view. You could also think of it as the difference between being a consumer and being a creator.
Consumers and creators don't just think differently, they think opposite from each other. The best way I know to articulate this difference in mindset is to quote the famous acting teacher and father of modern acting styles, Konstantin Stanislavski. In giving advice to aspiring actors, Stanislavski once told them,
"Love the art in yourself, not yourself in the art."
A pithy statement to be sure, but one that deserves a more detailed explanation. I spend this episode exploring that advice in depth and explain how important it is to have a truly artistic mindset if you want to succeed in voice acting!
Thanks for listening!
Download Voice Acting Mastery Episode #44 Here (MP3)